Discover Orbitas' groundbreaking analysis of climate transitions and tropical commodities
Agriculture in the Age of Climate Transitions
76 percent of unplanted concessions in Indonesia face the risk of becoming stranded assets. Up to 600 million hectares of agricultural land –  or over 10% of agricultural land globally – will revert to forests. These are just a couple of the climate transition risks facing the tropical commodity sectors like palm oil and soy.
New analysis shows that the risks – and consequent opportunities – relating to climate transitions are as significant in agriculture as they are for energy and transport. Head to our Insights page to download our report Agriculture in the Age of Climate Transitions which uses Orbitas' cutting edge methodology to assess financial risks for tropical commodity investors across a range of climate transition scenarios.
Climate transitions are the policies, commitments and changing consumer preferences to tackle climate change that will upend business models across the global economy. Tropical commodities are no different, because deforestation and agricultural emissions must be reduced to create a low-carbon economy. Agriculture is responsible for 23 percent of greenhouse gas emissions globally, and a key driver of forest loss, particularly palm, beef, and soy, which jointly account for 36 percent of global deforestation. See our Insights pages to read Climate Transition Risks For Tropical Commodities.
To learn more about why investors must pay attention to tropical commodities, download our introductory paper Climate Transition Risks For Tropical Commodities.
We asked financiers around the world about their exposure to climate transition risks in the tropical commodities sector. None considered the climate transition risks facing tropical commodities and over half of financial institutions surveyed were not aware of the nature or degree of their exposure to tropical soft commodities.
Visit the Insights page to view the survey, conducted in association with PwC, to learn how financial institutions currently assess these risks and opportunities.
0% of financial institutions that consider physical and transitional climate risks facing tropical commodity investments.
95% of Financial institutions don't have adequate data to accurately assess climate transition risks for tropical commodities.
Orbitas sees both risks and opportunities for tropical commodity companies. Our research finds three categories of risks that investors should be aware of, as well as opportunities from pushing their financing towards sustainable alternatives.
Legal restrictions on land development, or deteriorating economic competitiveness make concessions unprofitable.
76% of Indonesia's unplanted concessions at risk of becoming stranded assets.
Agriculture has to compete with nature-based solutions and bioenergy, which increases the price of land.
286-604 million hectares of global agricultural land lost for production by 2050, raising cropland prices by 50%.
Either pricing or regulation of agriculture and land-use emissions create a growing production cost for tropical commodity companies.
$19 billion in annual emissions costs for tropical agriculture companies.
For companies that navigate these risks, there are profitable opportunities. Forward looking agricultural companies can invest in sustainable intensification, regenerative agriculture and the development of additional revenue streams to see their net value and profitability rise.
Higher demand for food and bioenergy drives commodity prices 10-40% higher. Production also increases by 50%, but only sustainable companies will capitalize.
Climate transitions do not always mean negatives for certain industries. By taking climate transitions seriously, Indonesian palm oil companies could gain $9 billion in market value. Palm oil's value could see significant increases over the next few decades, but only those companies that adjust to coming transitions now will be able to capitalize.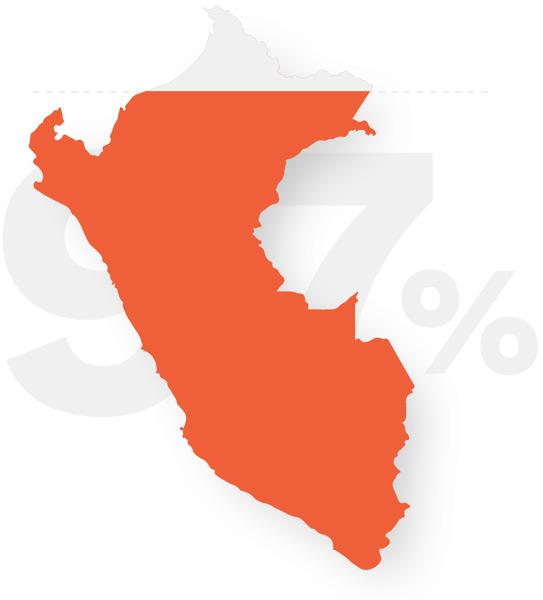 In Peru, our spatial analysis found that 97% of biophysically suitable land for palm cultivation is unusable under NDPE restrictions to which many global agricultural conglomerates have recently subscribed. Producers looking to expand their production will have to improve yields on existing plantations or capitalize on opportunities outside NDPE restricted areas. The palm oil market will increase in value but the costs of clearing land will mean companies focused on intensification of land will win out over those focused on expanding their plantation area.
Colombian cattle ranchers increase rate of returns by up to 37% under climate transitions with sustainable practices. While demand growth for cattle products might slow, producers who reduce methane emissions and halt deforestation will outcompete unsustainable competitors.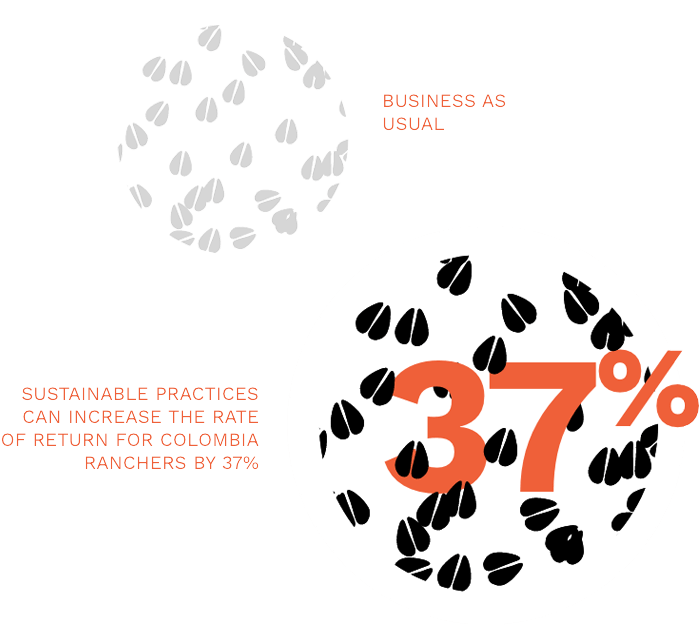 Transition
Scenarios for
Tropical Agriculture
Orbitas' scenarios are the foundation of our analysis. They offer a quantified vision of what climate transitions mean for agricultural markets.
Looking at 2050, the agriculture sector looks very different. A growing population and higher incomes raise demand for goods, but the elimination of deforestation as early as 2030 makes improving yields and productivity essential. Agriculture becomes capital intensive – the cost of land increases up to 50%, and annual investment needs reach $1.2 trillion.
Our report and analysis of climate scenarios can be found on our Insights page.
To understand how these shifts will affect commodity markets, download Transition Scenarios for Tropical Agriculture.